Thursday, April 19, 2007
Let Us Heal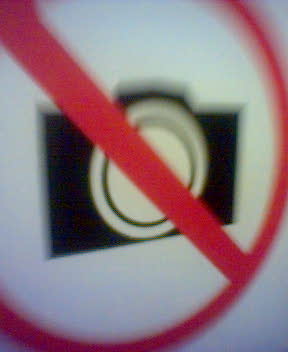 Media, please go home.

Quit shoving microphones in our kids faces, making them relive the traumatic emotions again and again. Quit asking them how they feel, if they think the administration could have done more, if they have second thoughts about what could have been done, if they knew something was wrong. We need to cry, we need to shout, we need to slam doors, to question, to throw rocks at the sky and be angry. Pack up your trucks and lights and cameras and perfect hair and practiced looks of concern and let us grieve in private.

I'm glad that Tech canceled classes this week. It gives a much needed reprieve from the freshness of this personal 9-11. So much for these young lives to take in. Tuesday morning, I was seeing some of the same students on the news reciting the same stories. They looked tired and just wanted the ordeal to be over.

They wanted to stop telling their story.

They wanted to move past it. They had lived it, they had been there. It was now time to deal with it and grieve. They were emotionally spent.

The newly surfaced multi-media suicide note. My heart goes out to Cho's family. I have been thinking about them constantly in addition to everyone else who lost someone That Monday. It again shows that we don't know. There is so much hidden and only one side is shown,

the side he wanted us to see.

We don't know why or how. We

won't

know why.

His parents won't know why

and will be left with that empty gnawing, those photos burned into their minds that the media so eagerly laps up and plasters across our screens only to bump ratings. A parent who loses a child is still a parent who loses a child, no matter the circumstance.
Then there are the Cause-Heads -- to borrow a phrase from the movie PCU -- the activists who I've already heard spew rhetoric about gun control and if we had tighter laws this wouldn't have happened. A very crude and untimely event to soapbox over. Roanoke firearms owner John Markell stated that Cho seemed like a nice, clean-cut college kid: "We won't sell a gun if we have any idea at all that a purchase is suspicious," Markell had said. Governor Tim Kaine snapped at politicians and activists who were seeking to gain points from the tragedy, stating that he has "nothing but loathing" for anyone who wanted to make this a "political hobby horse to ride."

Message boards are popping up everywhere. Everyone is now a learned expert on abnormal psychology based on their two credits taken in high school and/or college. The "profile" has been carefully compiled from snippets taken from the news and now includes new information from the suicide note mailed to the media.

"He was a disturbed loner. Students should have reached out to him."

They tried. He refused. We don't understand. The light bulb has to really want to change.

"Teachers should have picked up on clues from his violent writings."

How do we explain the graphically violent imaginations of Stephen King, Quentin Tarantino and other writers and movie producers?

"Clearly he was exhibiting signs of mania and depression; thus he was bipolar and should have been on medication."

We don't know that; this is speculation based on a textbook definition without an actual in-depth psychological evaluation.

"Didn't anyone in admissions check his background? He should have been flagged. He was admitted to a mental health facility."

This is incomplete information and and again purely speculation. Plus, this is confidential information.

First, let's stop demonizing everyone who has a mental health issue; the spectrum is wider and more complex than you can possibly imagine. And leave the cushion fluffing to the experts. As per flagging someone who may be "at risk", remember that it's a confidential matter between that person and his or her doctor. It all comes down to the same thing -- we just don't know why.

Governor Tim Kaine, Professor Nikki Giovanni, and others spoke at Convocation on Tuesday, April 17. Beautiful speeches encouraged students and families to embrace the unknown, the answers that may never come, the pain and sorrow, to question, to mourn and grieve, to be angry, to know that this will become a part of who they are now and who they will become, and that they are not alone.

And so, media, please go back home. Give us our dignity and our privacy. We are in our nation's prayers. We don't need a talking screen to be reminded of that. We have lost best friends and classmates, daughters and sons and only children, nephews and nieces, sisters and brothers, spouses and parents and teachers. Every time we see you outside we are reminded of what has been lost. Our millennial generation was raised on a diet of computers, video games, the internet, cell phones, do-it-yourself video, and we move fast. We want to move on.

Go home.
Labels: forgiveness, general
posted by Sara @ 8:30 AM


Wednesday, April 18, 2007
Shock and Profound Sorrow
There are just some things that shouldn't happen. Even several days later, the shock still hasn't quite sunk in. I don't think it will fully. I am still wondering why. I think I always will. I'm not wondering why at security or the school officials or at professors or students who saw the troubled future gunman Cho Seung-Hui and weren't successful at reaching out to him. There is so much that can be speculated from hindsight.


The Tragedy at Tech is the deadliest campus shooting (32 people killed in a dorm and classroom; the gunman died) since Charles Whitman pointed a rifle from the observation deck at the University deck at the University of Texas on August 1, 1966.
16 were killed and 31 were wounded in 96 minutes during his rampage.
Many have moved past Kubler-Ross' Stage One of Grief (Denial) and on to Stage Two -- Anger. Fingers are pointed at University President Charles Steger and VT Campus Police Chief W.R. Finchum who have been busy defending their actions for closing off a dormitory after the first shooting, thought to have been an isolated incident, not knowing that a second shooting was mere hours away. Again -- my editorial -- it's easy to offer our grand wisdom on what should have been done as we look back.

It's difficult to separate strong emotion from these horrific events when we know our sons and daughters were stolen from us at such a promising time in their lives, that answers will never come and our sense of justice will never be satisfied. We hurt and we need someone else to feel this pain instead of us. We long to know why. It bleeds from our souls. We want to know when and where and how and why why

why

. There are no words and so we are forced to wait, speechless, knowing we have to listen to pithy sayings from people who mean well, and we are left left wondering why.

Don't get me wrong. I haven't let this go or moved on. It's just become part of who I am. Just another part that I can't understand.



Visit

Virginia Tech's April 16 Memorial Website

and share your condolences with the friends and families who tragically lost loved ones on That Monday.




We will continue to invent the future through our blood and tears
and through all our sadness ... We are the Hokies ...
Labels: forgiveness, general
posted by Sara @ 12:55 PM


About Me
Name: Sara
Home: gypsy wanderer, United States
About Me: Those who know me find me stubborn, opinionated, open-minded, strong-willed, of some intelligence, and yet they still hang around.
See my complete profile
Previous Post
Archives
Shoutbox
Love God. Love all. Serve both.
There is wisdom in turning as often as possible from the familiar to the unfamiliar: it keeps the mind nimble, it kills prejudice, and it fosters humor. -George Santayana, philosopher (1863-1952)
Links
Powered by